Brian Hickey awarded NDT Level 3 Certification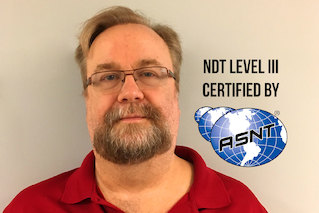 Solmet inspector, Brian Hickey, has achieved Level 3 certification from the American Society for Nondestructive Testing (ASNT). As one of the only Level 3 technicians in the Northeast Ohio area, this designation reaffirms the quality of Solmet's ultrasonic and magnetic particle testing capabilities.
To receive this prestigious certification, Hickey provided evidence of his sufficient background in testing materials, fabrications and product technology. He will now assume responsibility for all elements of Solmet's ultrasonic testing and magnetic particle inspections, ensuring the structural integrity of all customer components.
Level III responsibilities
Develop nondestructive (NDT) testing procedures
Establish approved inspection techniques
Interpret codes and standards
Evaluate the results of NDT inspections
To maintain his Level 3 certification, Hickey will continue his education in the field, keeping up with current industry trends, leading equipment and new material testing methods. He will also lead the professional development of Solmet's NDT Level 1 and Level 2 personnel.